FJC-news
Brand-new book: One Safe Place for Hope and Empowerment
6th November 2017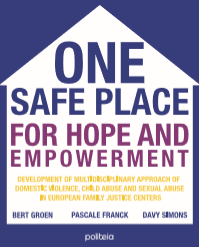 The book gives an inside view in the development
of the FJCs and a lot of practical tips and tricks concerning the
construction of a FJC, supported by personal testimonies
of both survivors and stakeholders.
The book can be ordered at Politieia
---
Advanced Course of Strangulation Prevention, Fort Worth, Texas
24-27 October 2017
The EFJCA was active and present at the Advanced Course of Strangulation Prevention, Training Institute on Strangulation Prevention, of The Alliance for Hope.
The training focussed among others on:
Medical signs and symptoms of strangulation assaults
Long term consequences, delayed death and fatal strangulation
Clinical documentation of strangulation signs and symptoms
Strategies for advocacy and working with traumatized victims
Best practices, resources and implementation planning
In 2018, the EFJCA will focus on translation of the Strangulation prevention to the European context.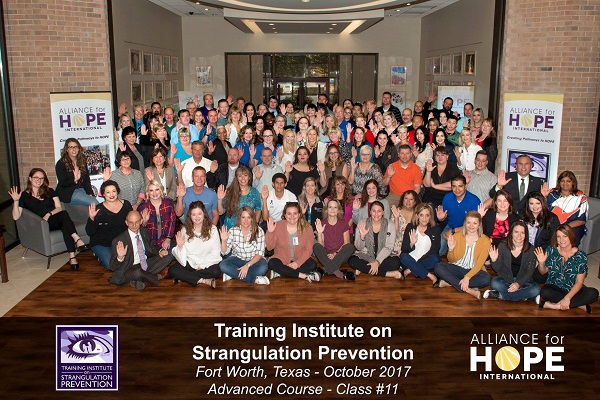 ---
Visit @ One Safe Place - Family Justice Center, Fort Worth, Texas
25th October 2017
The FJC of Fort Worth, Texas, is a perfect example of a strong and well-equipped FJC with a strong and motivating leadership, a kind-hearted team and a client-centered approach.
During our visit we were impressed by the beautiful look and warm atmosphere of the Center. Our colleagues in Texas really make the difference for survivors of domestic violence.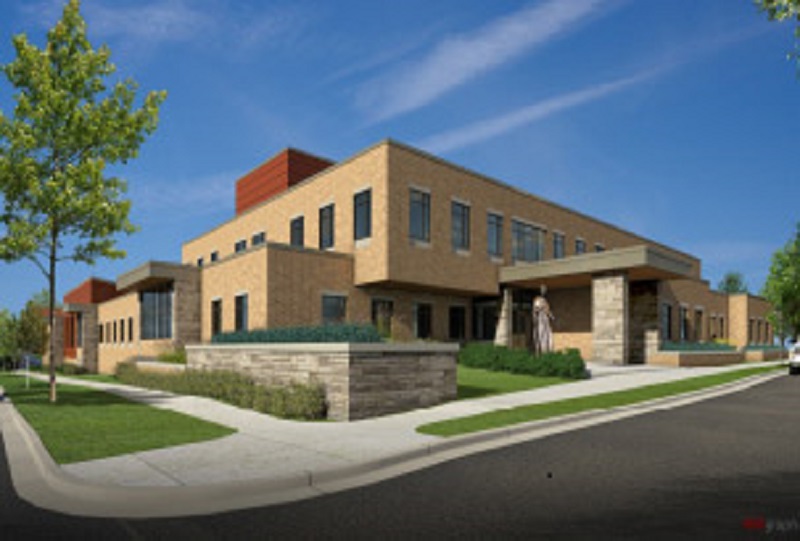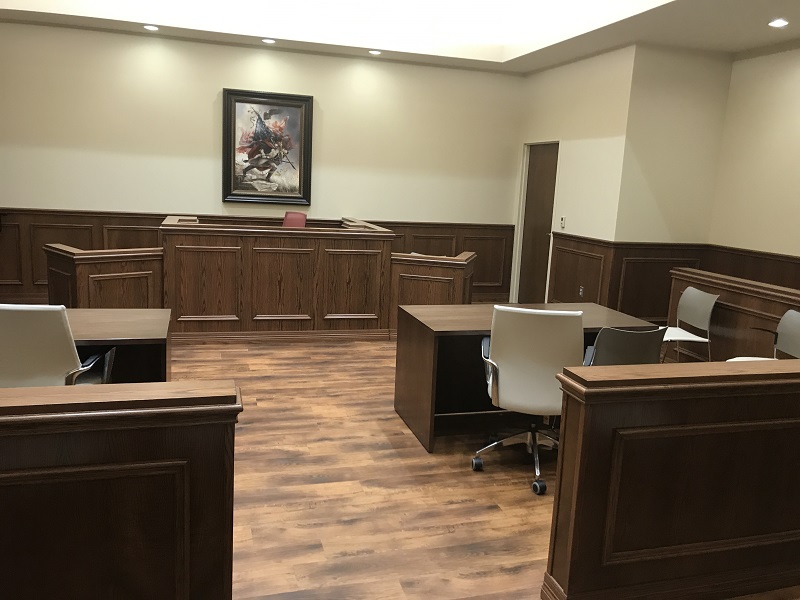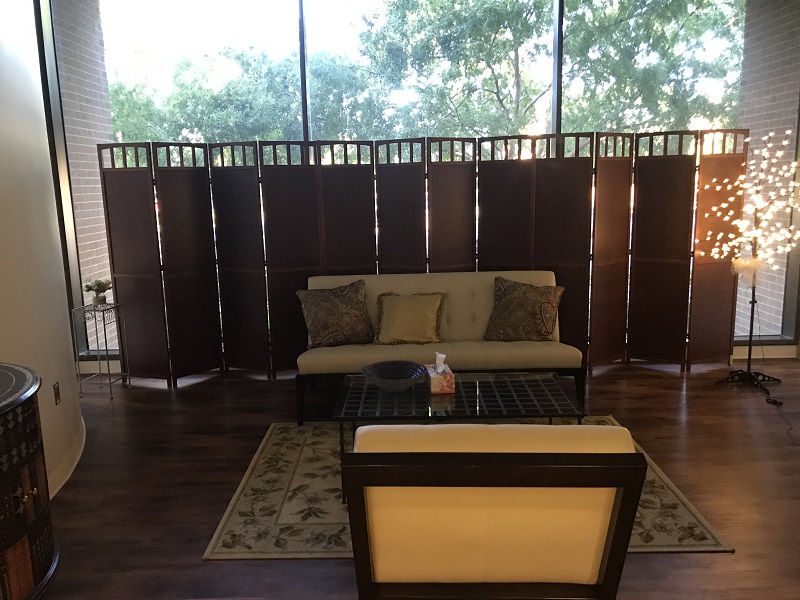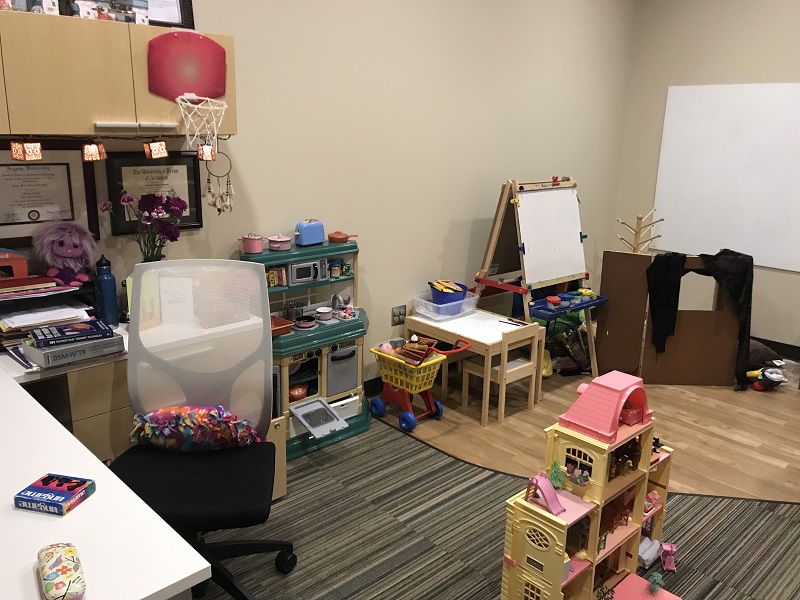 ---
EFJCA official member of the WWP EN
11-13 October 2017, Zagreb Croatia
The EFJCA became official member of the European Network for Work With Perpetrators of Domestic Violence, and took part of the annual meeting in Zagreb. The meeting was very interesting with topics about accountability and victim-centered safety. The workshops were animated and brought interesting exchange. The social event - wine tasting at Croatian wineries - was well chosen and fun. Thank you, hosts and cooperators and board members of WWP EN, for the excellent organization, and colleague-members for the inspiring networking and fun contacts (and the dance).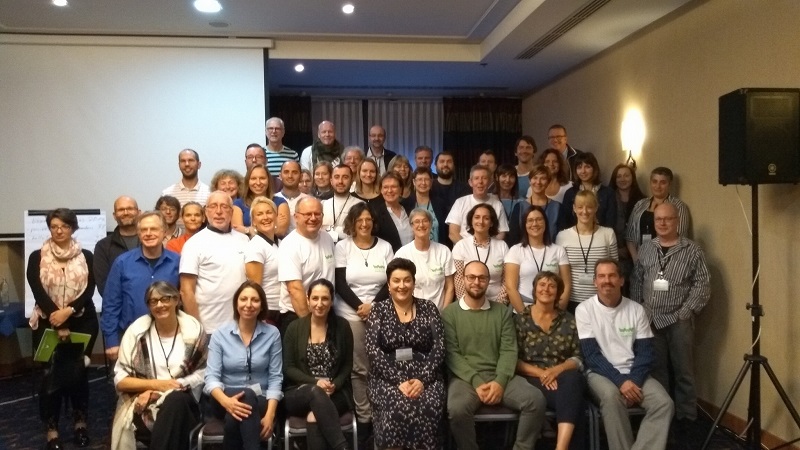 ---
EFJCA visiting Croatia
12 October 2017, Zagreb Croatia
The EFJCA exchanged with their new partners in Zagreb,Croatia: The Child and Youth Protection Center and the Brave Phone for Children and Brave Phone for moms and Dads. They form with their partners a multidisciplinary one-stop-child-friendly center, offering a high-quality and holistic response towards children, victim of violence and their families.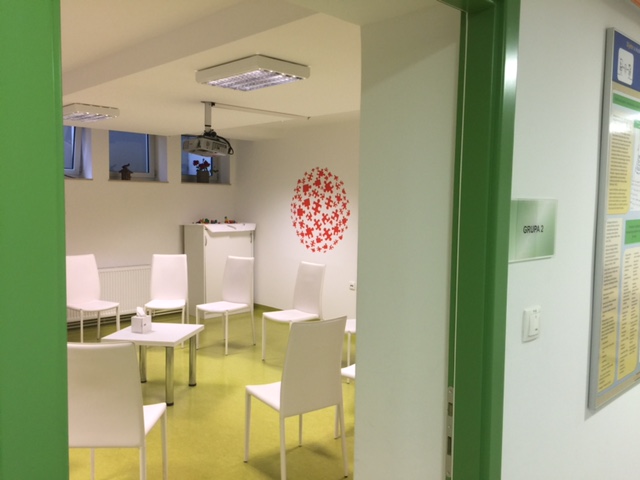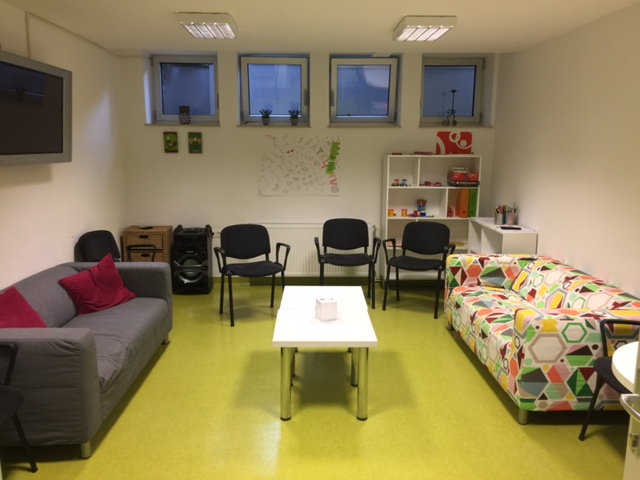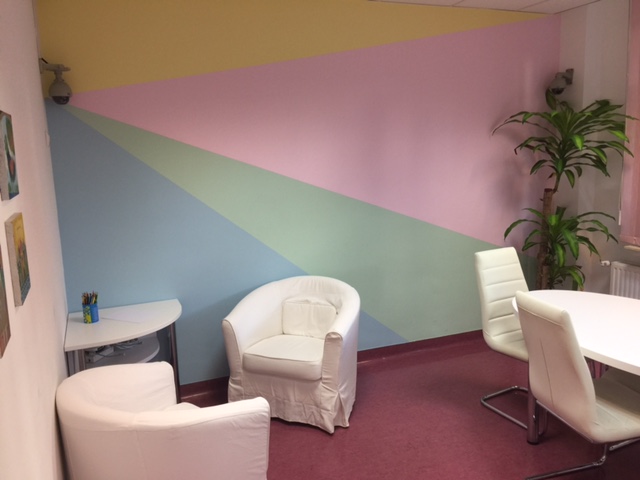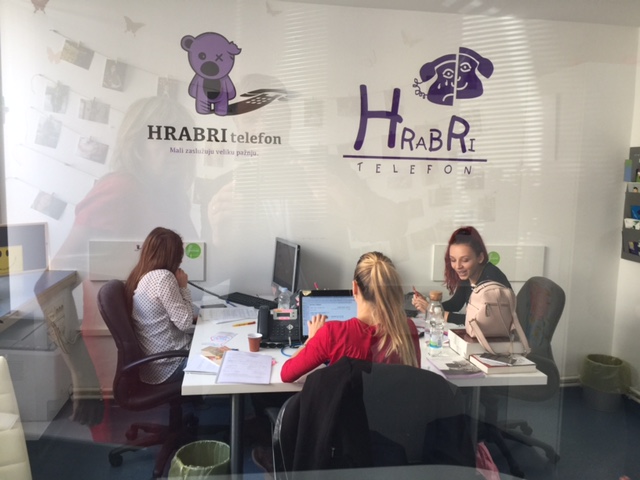 ---
New location Family Justice Center Limburg
5th of October 2017, Hasselt, Belgium
The EFJCA visited the brand new location of the Family Justice Center Limburg, Belgium in the city of Hasselt.
FJC Limburg started last year and the team is very proud of their new location and the series they can provide to survivors of domestic violence and child abuse, and their families.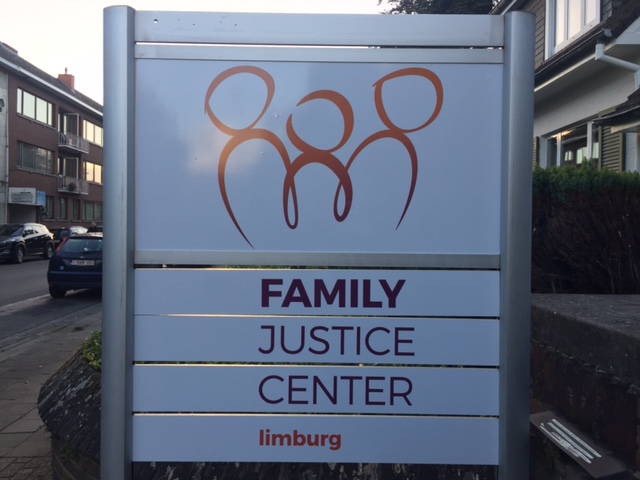 ---
Workshop at the II European Conference on Domestic Violence - Porto, Portugal 6-9 September 2017
6th of September 2017
On Wednesday 6th of September 2017 the EFJCA-team - with Bert Groen (president EFJCA), Pascale Franck, (director FJC Antwerp - Vice EFJCA) and Berglind Eyjólfsdóttir (Detective inspector FJC Reykjavik) - provided a 3 hour workshop at the second International European Conference on Domestic Violence organized by the Faculty of Psychology and Education Sciences of the University of Porto, UMAR and APAV.
The workshop focussed on the Family Justice Centers in Europe as multi-agency approach of domestic violence that meet the needs of victims of domestic violence and their children. The experiences and lessons learned in the FJCs of Antwerp and Reykjavik reflected the content of the interactive workshop. The workshop led to interesting exchanges, into depth insights, positive discussions and new contacts.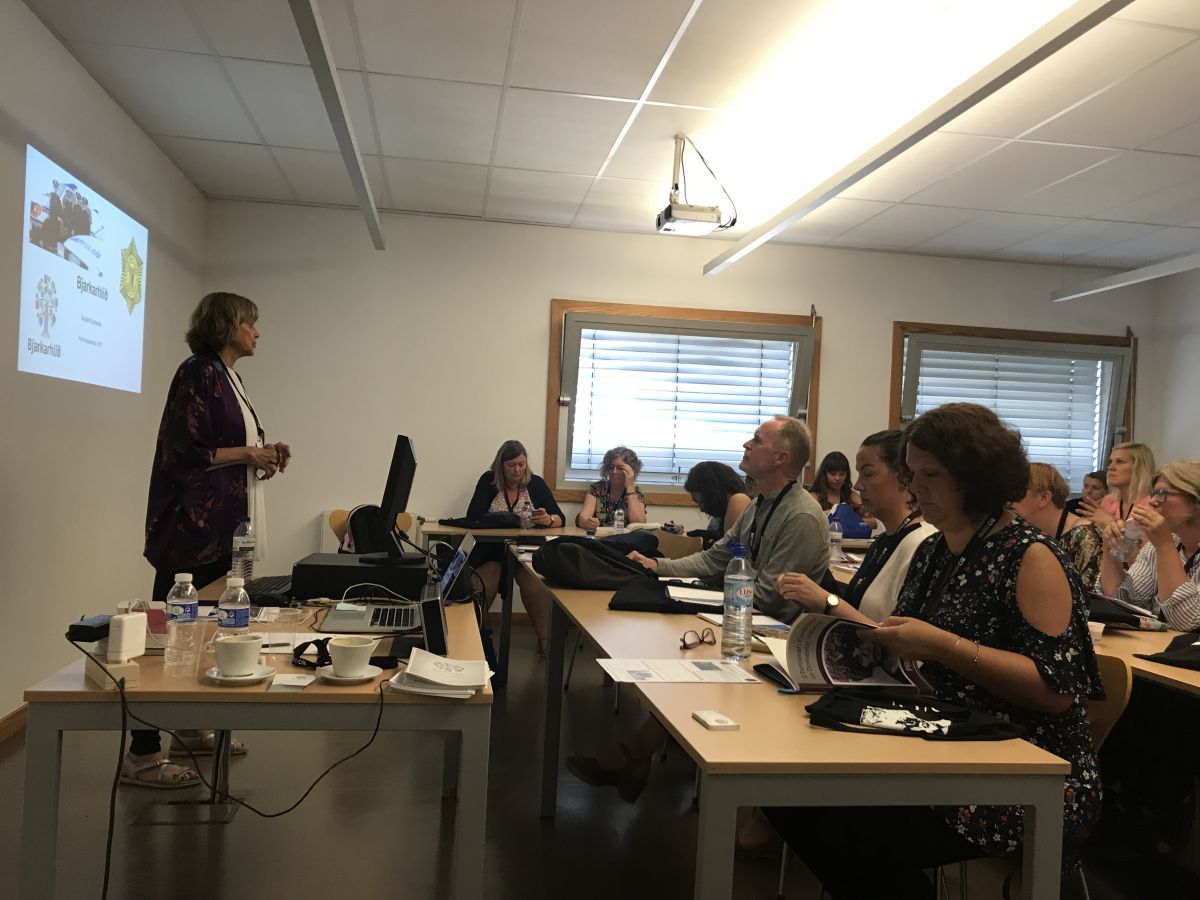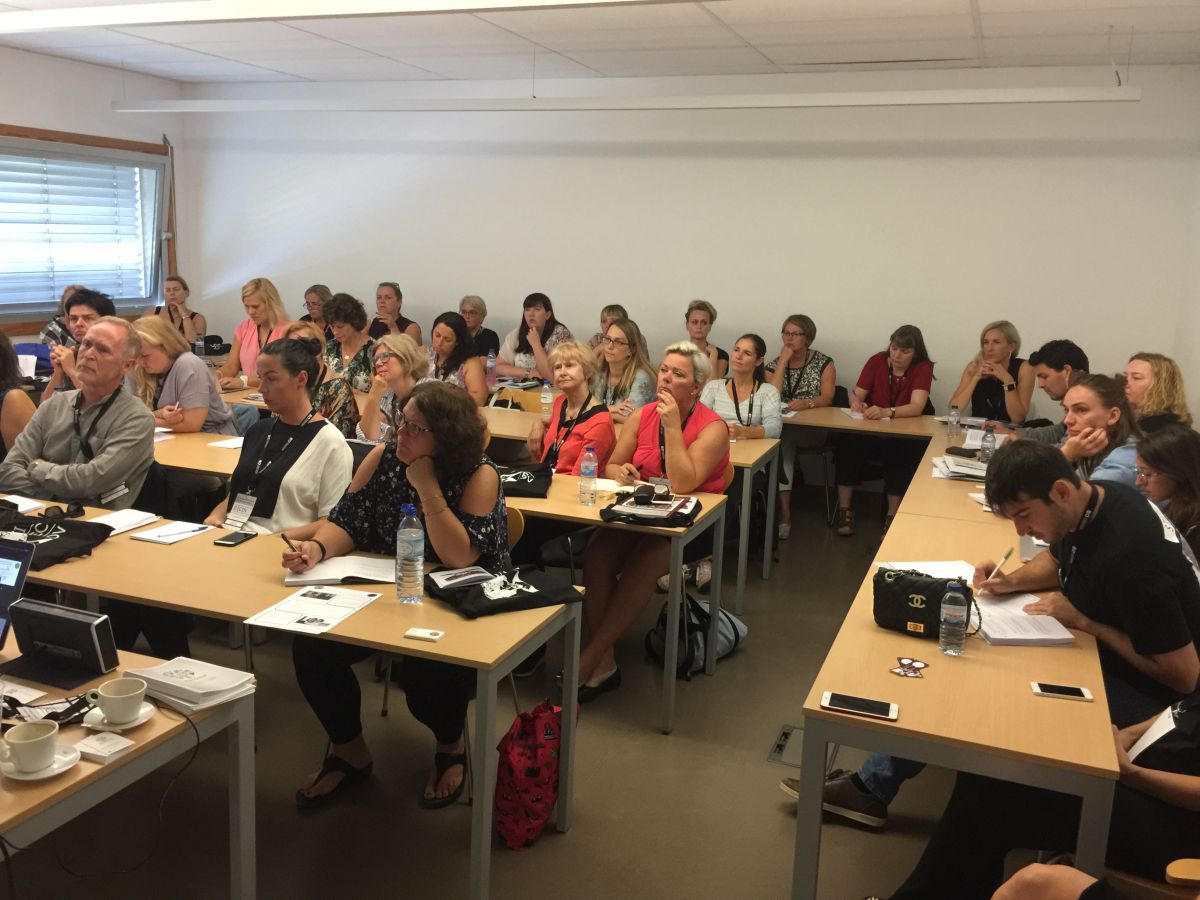 ---
EFJCA visiting the brand new Family Justice Center Reykjavik
30th of August 2017
The Family Justice Center of Reykjavik, Iceland, Bjarkjarhlif, started in March 2017. Six months later they have a fully working FJC, with already 200 survivors entering the FJC. The FJC is beautifully located between trees - in the woods - and has a warm and empowering atmosphere.
Welcome to our new partners in the FJC-movement!
30th of August 2017: EFJCA supporting the FJC-team of Reykjavik in their workshop about the FJC-work during the Nordic conference on violence against Women (Nordikse Kvinner Mot Vold 2017) in the Grand Hotel in Reykjavik. It was a great workshop with a lot of attention and exchange.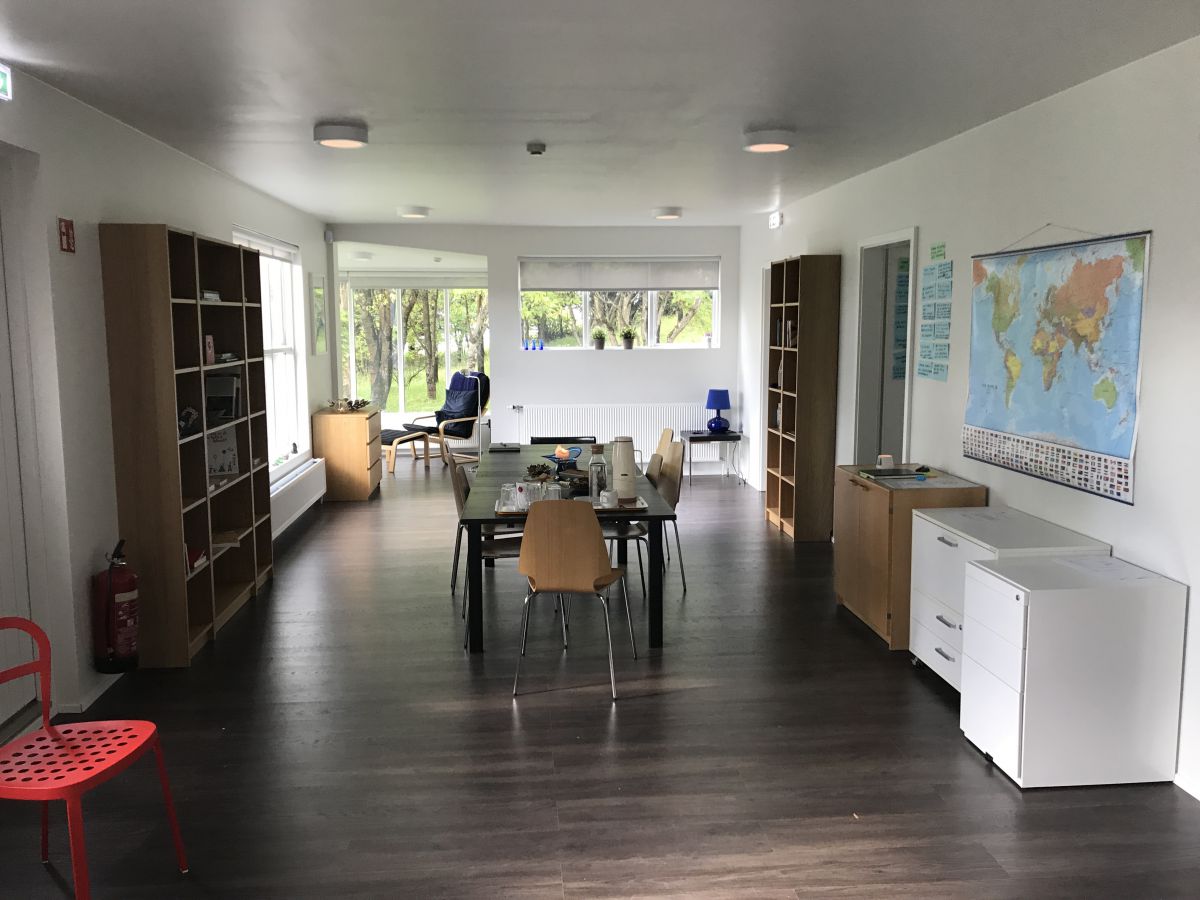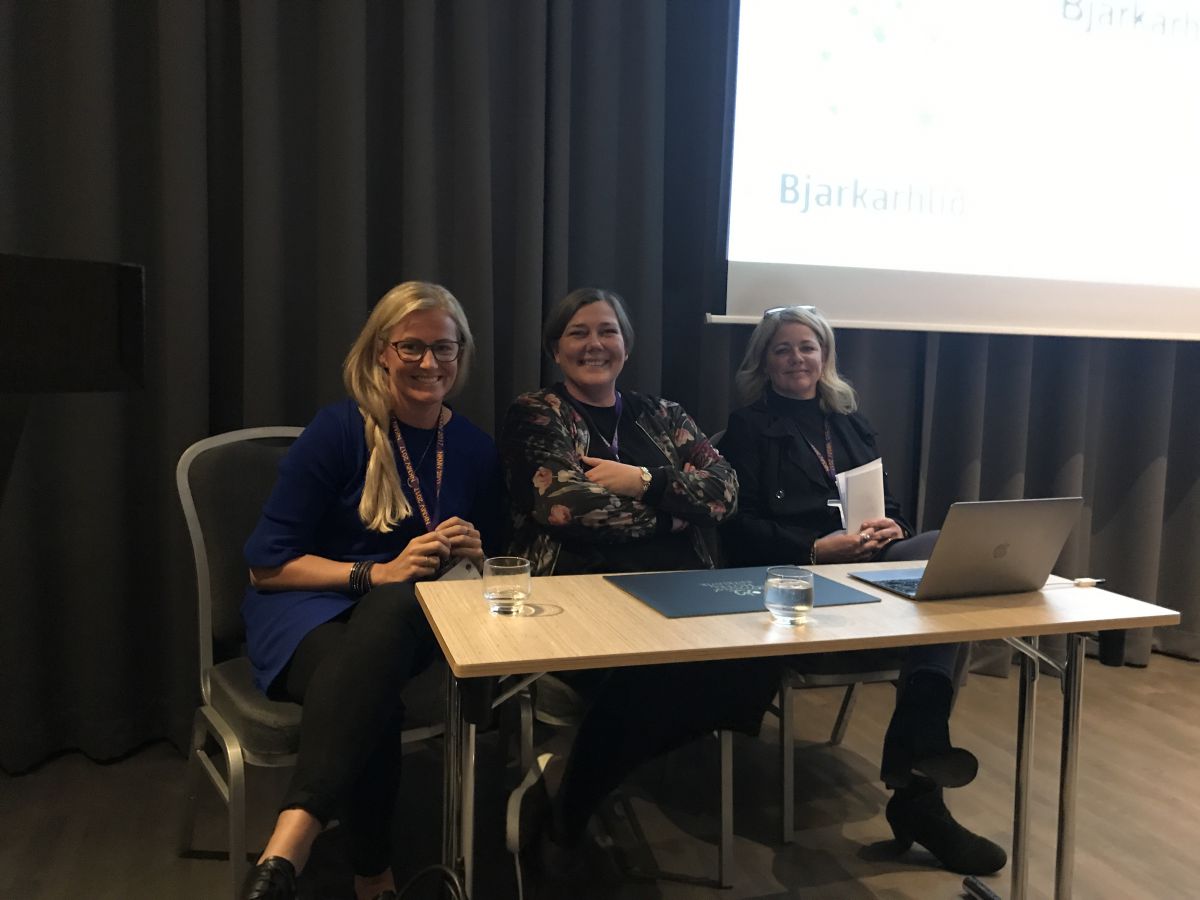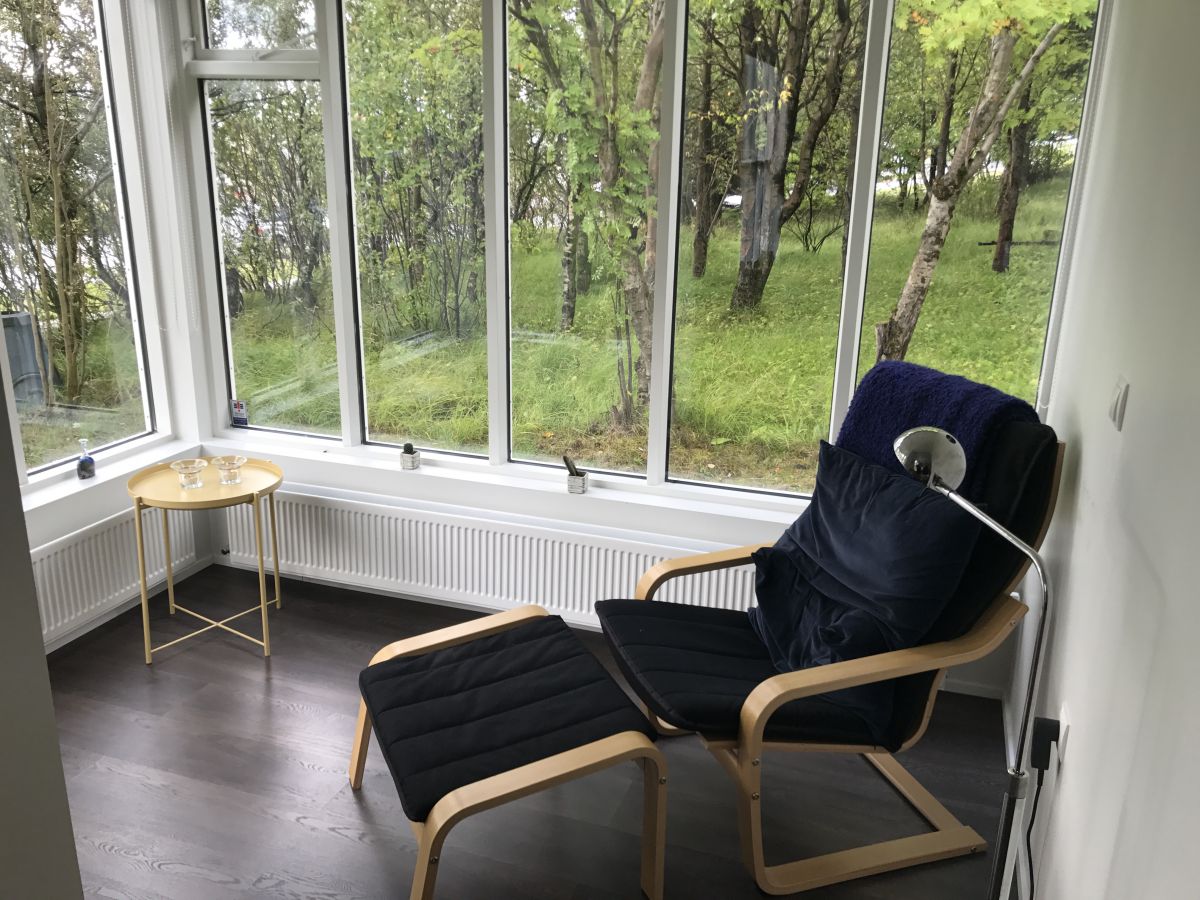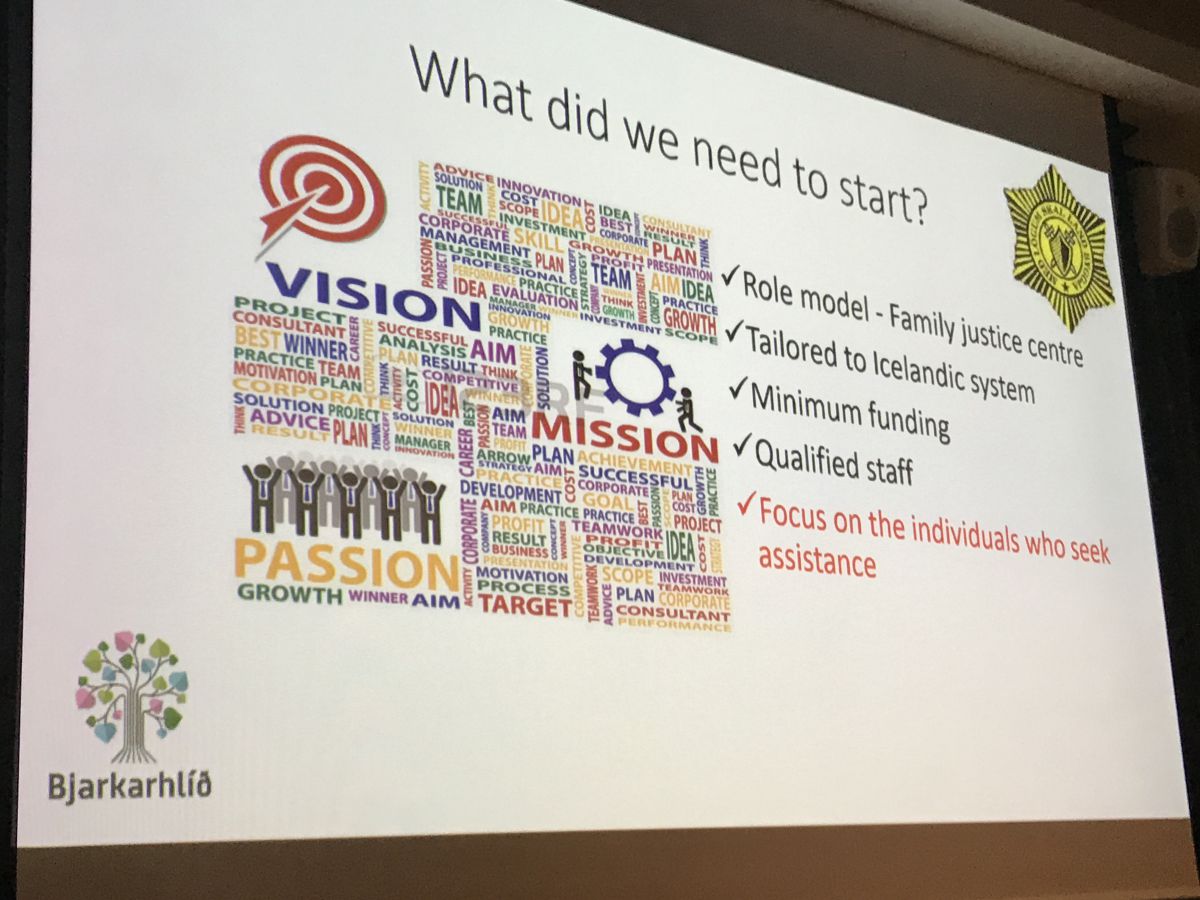 ---
EFJCA visiting Maison des Femmes (Saint-Denis, Paris)
June 29th 2017
On June 29th 2017, the EFJCA visited the Maison des Femmes in Saint-Denis, in Paris. The Maison des Femmes is a strong multidisciplinary center focussing on violence against women and completely working following the principles of the FJC-movement, led by dr Gada Hatem. We are very happy to welcome the Maison de Femmes as new member in the EFJCA and plan to work together closely.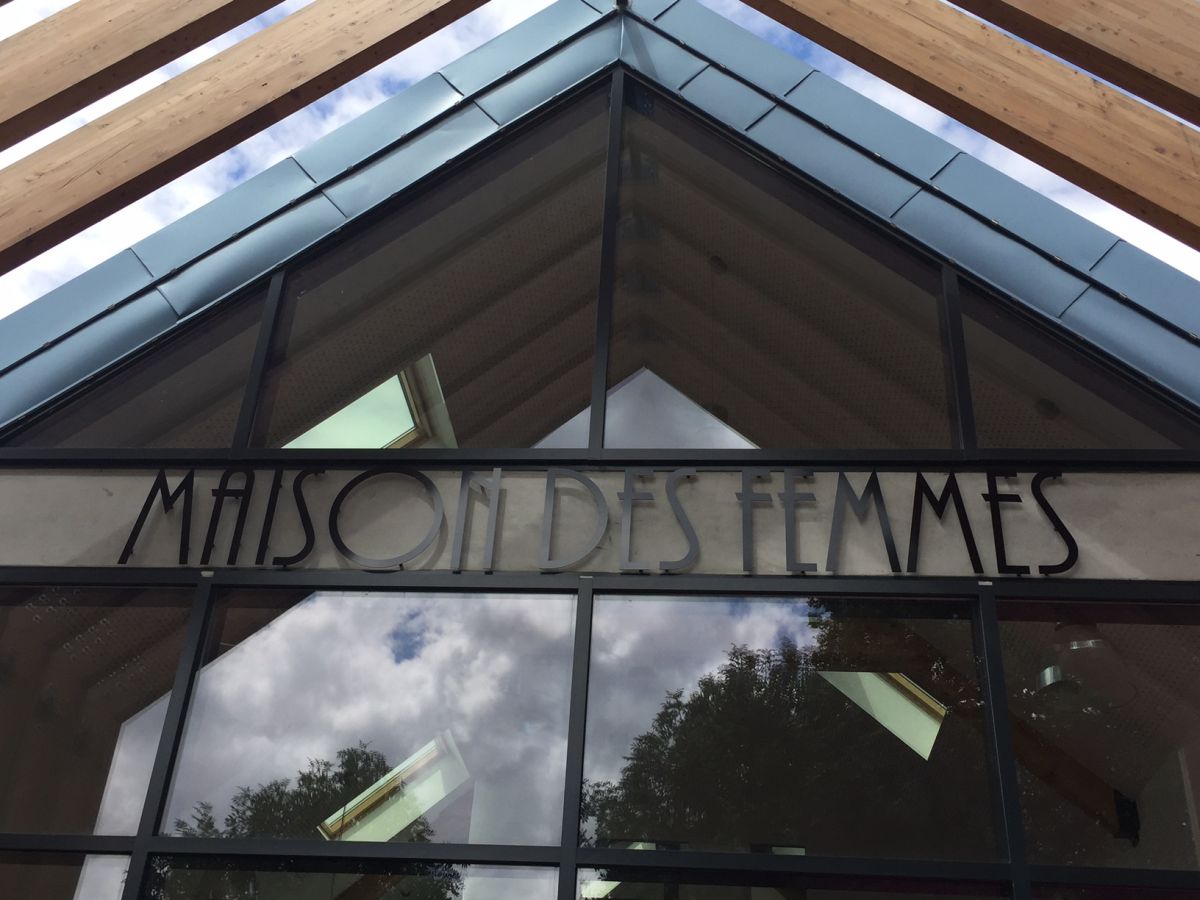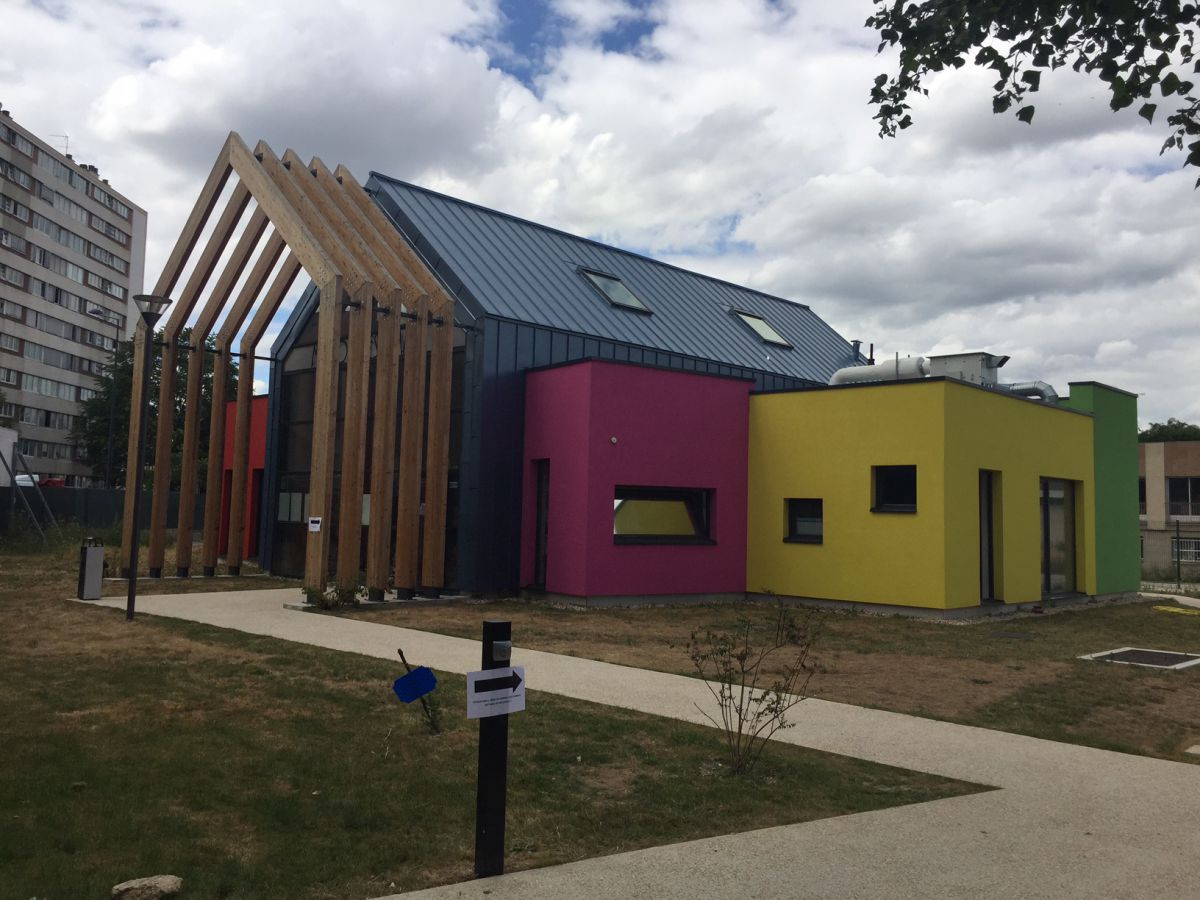 ---
EFJCA at training day FJC Antwerp
June 19th 2017
On June 19th 2017, the EFJCA worked with the team of FJC Antwerp, during their team training day. The focus of the training: safety planning on long term, trauma-informed work with children and restorative work in the relation parent-child.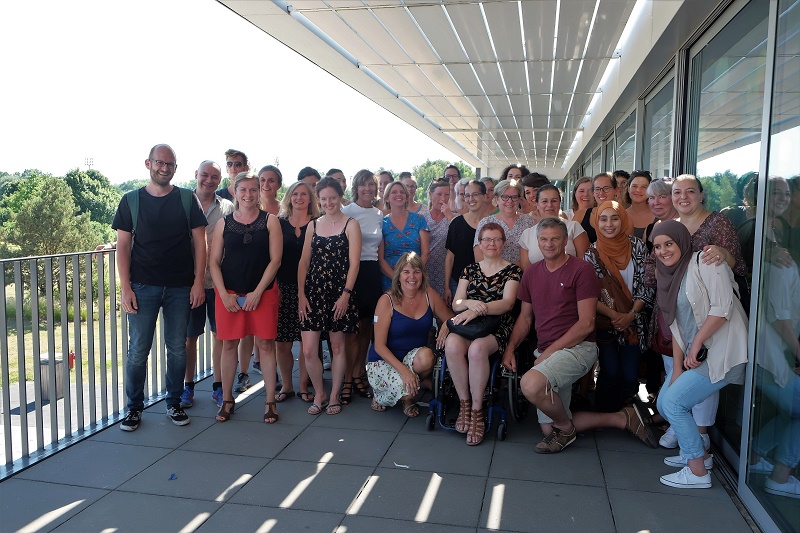 ---
Opening Family Justice Center Mechelen (Belgium)
23 May 2017
Today the municipality of Mechelen (Belgium) officially opened their Family Justice Center, located in the Social House of Mechelen. A place where different organizations are working on social services for the inhabitants of region of Mechelen. FJC Mechelen is the second FJC in Belgium, besides Antwerp and the ninth in Europe.
read more...
---
FJC in Derry opens new centre
21st of May 2017
FJC in Derry opens new centre to provide special services for children and young people affected by domestic violence
read more...
---
Family Justice Centers Europe at the 18th WAVE Conference
19-21 October 2016
The Family Justice Centers Europe participated in the 18th WAVE Conference that took place on 19-21 October 2016 in Berlin, Germany. The WAVE conference is a large, international gathering of NGOs, policy makers and academics, from across Europe and further afield, that addresses various forms of violence against women.
---
FJC-presentation at the Foyle Women's Aid 40th Anniversary Seminar
29 September 2016 Derry-Londonderry (Northern Ireland)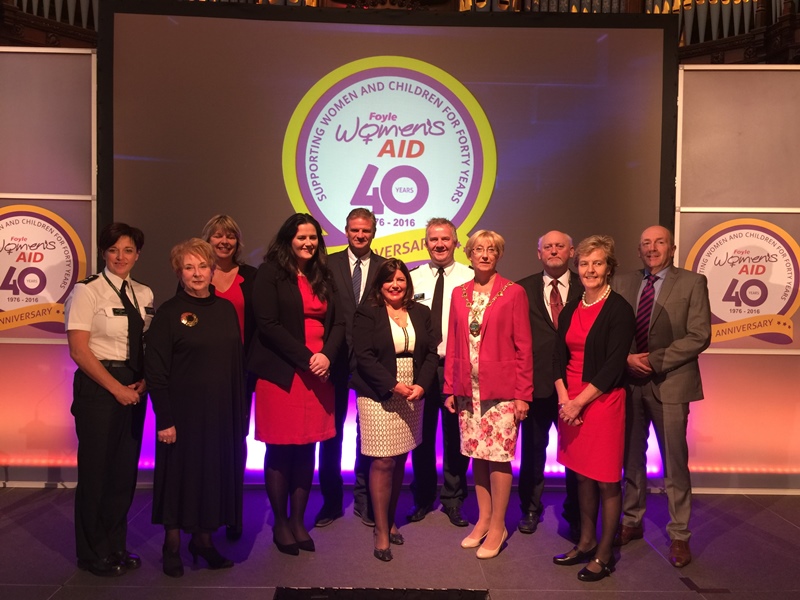 Speakers at the Foyle Women's Aid 40th Anniversary Seminar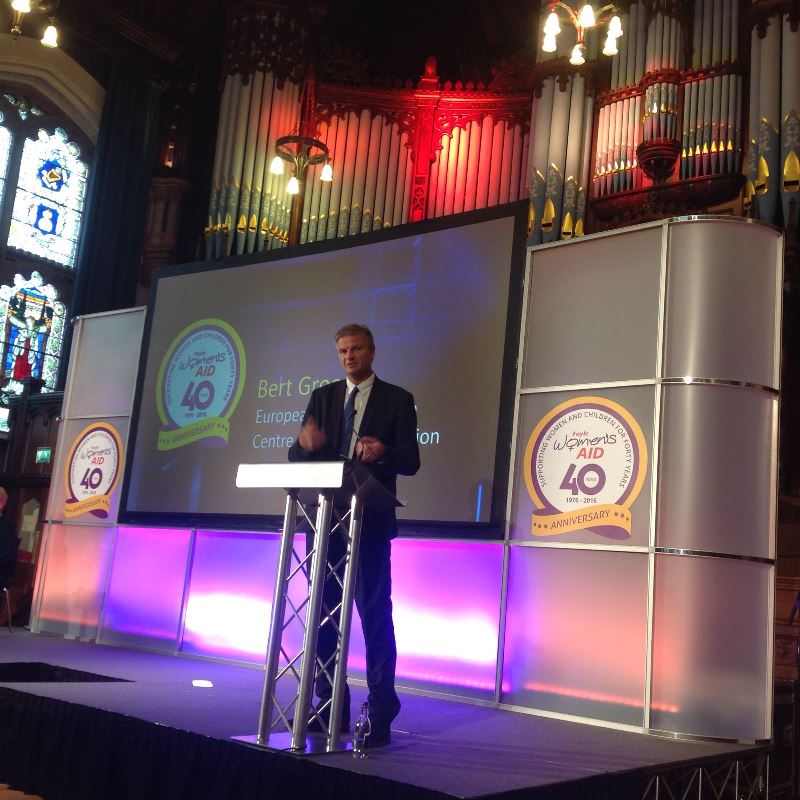 Bert Groen, Chairperson of the European Family Justice Centre Alliance Foundation
---
17th Annual International Family Justice Conference
23 September 2016
The Alliance's 17th Annual International Family Justice Conference welcomes law enforcement personnel, prosecutors, shelter staff, community-based victim advocates, civil attorneys, judges, therapists, policy makers, elected officials, board members, survivors, parole and probation officers, rape crisis workers, medical personnel, educators, and all others interested in the future of family violence intervention and prevention. The conference will include nationally and internationally recognized subject matter experts, advocates, and survivors.
The Conference on April 4-6, 2017 in Milwaukee (Wisconsin) includes training and interactive peer-to-peer discussions on issues related to the handling of domestic violence, child abuse, sexual assault, strangulation, elder abuse, human trafficking and stalking cases. The theme this year is: "Creating Pathways to HOPE." The three day conference will focus on trauma-informed practices for professionals in diverse fields, survivors, and other social change professionals.
---
Charter for Family Justice Center Antwerp
30 June 2016
The Belgium Justice Minister Koen Geens and the Flemish Minister of Welfare Jo Vandeurzen signed a charter for the founding of a Family Justice Center in Antwerp last tuesday.
A professional team of social workers, police- and Justice employees will collaborate and will be fully at the cliënt's disposal. The motto is: 'One family, one plan'. "In the next years the Flemish region will build social networks of social workers, police- and Justice employees to tackle the problem of domestic violence with an integrated approach", says Minister Vandeurzen.
The charter responds to Council of Europe Convention on preventing and combating violence against women and domestic violence. This month the Belgium approval law on this came into force.
---
FJCEU at 3rd World Conference of Women's Shelters
On request of the Global Network of Women's Shelters (GNWS), the Dutch Foundation of Women's Shelters and its partners organised the 3rd World Conference of Women's Shelters from 3-6 November 2015 in The Hague (The Netherlands). One presentation was about Family Justice Centers in Europe.
On Wednesday 4 November Bert Groen (MOVISIE) and Pascale Franck (CO3) spoke about 'Family Justice Centers in Europe, an Europan multi-agency approach of domestic violence'. Family Justice Centers are multidisciplinary centers where agencies permanent assign staff members in order to provide all services to victims of domestic violence and their families from one location.
The overall goal is to ensure that victims are able to access all the services, support and help they need. Since 2013 in Europe 9 FJC's are developed successfully in N.Ireland, the Netherlands, Sweden, United Kingdom, Belgium, Italy, Germany and Poland. They are united in the European Family Justice Center Alliance. This presentation gives more information about the structure/effectiveness of the FJC's and how victims benefit from this multi-agency approach.
Workshop: Family Justice Centre at 3rd World Conference of Women's Shelters
---
Conference Family Justice Centers Europe, 14 January 2015 Brussels
This conference on 14 January 2015 in Brussels was the final part of the project "Family Justice Centers in Europe".
Read more
---
Family Justice Centers Europe: Working Together to Address a Worldwide Problem
By Gael Strack, Esq.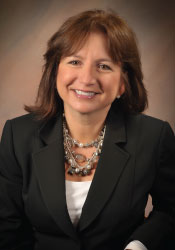 I just returned to San Diego, weary but enthused, from Poland where I met with our friends starting Family Justice Centers across Europe. I am inspired by the teams from five countries that are developing Family Justice Centers in six locations. The trip was worth every hour of travel, delayed flights, and forgotten sleep. Once there, you are instantly energized by the moment, the historical significance of the meetings, and always, the people. You immediately realize you are meeting with sisters, brothers, and cousins from around the world who share the same passion and vision of the future.
It was refreshing to see the many men involved in this initiative. Indeed, the initiative is lead by two men: Bert Groen (Movisie) and Anthony Polychronakis (City of Rotterdam) from Holland. In many ways, it is the President's Family Justice Center Initiative all over again – where 15 communities were selected by the Office on the Violence Against Women to participate in the President's Family Justice Center Initiative. But now I was in Poland. An international conversation is taking place about the co-location model.
The Family Justice Center Europe initiative is comprised of teams from Holland, Poland, Belguim, Germany and Italy. They are THE top movers, shakers, dreamers, and doers for their countries. They speak different languages but, thankfully for me, use English when together. They have the same tremendous ingenuity, energy, and determination as leadership teams from the US. Some countries have more challenges than others, but you know they will all be successful in developing their own model of co-location within two years or less.
read more
---

---
FJCEU-meeting Warsaw - June 27th